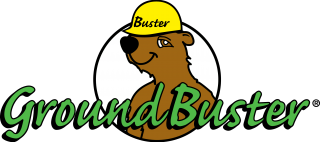 GroundBuster Drop Spreaders
Get premium drop spreaders at a superb market price. GroundBuster, part of the family of top-quality brands from J.R. Metal, built their reputation on first-rate drop spreaders. Engineered in-house, you'll find no finer piece of land equipment. You get the most color-durable, longest lasting drop spreader on the market that spreads granular materials in a uniform pattern and at the perfect application rate.
GroundBuster rectangular hoppers and lime spreaders stand out due to their value, durability, framing, uniform spread pattern, and multiple sizes for confined, small, and medium areas.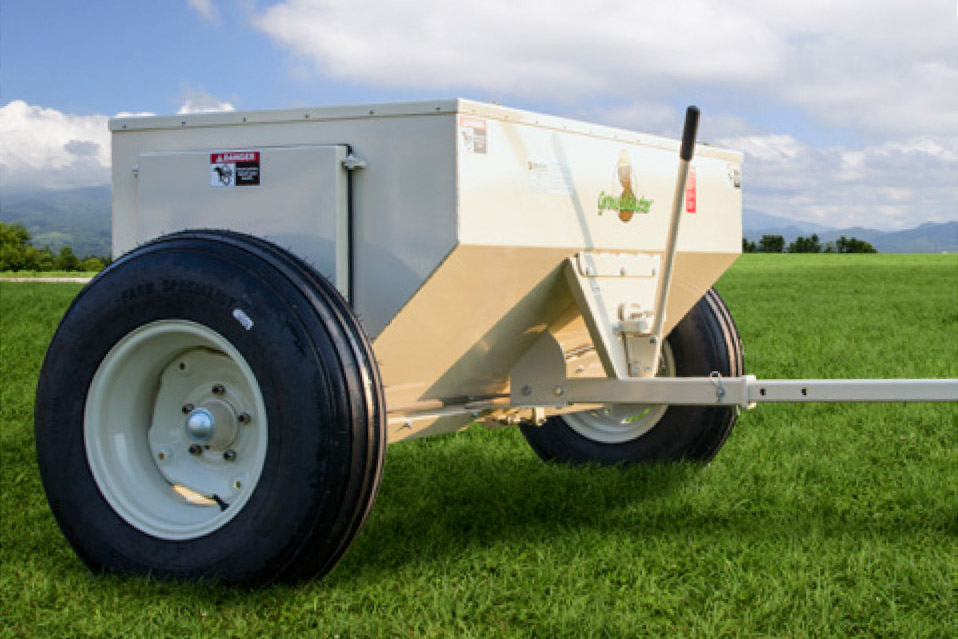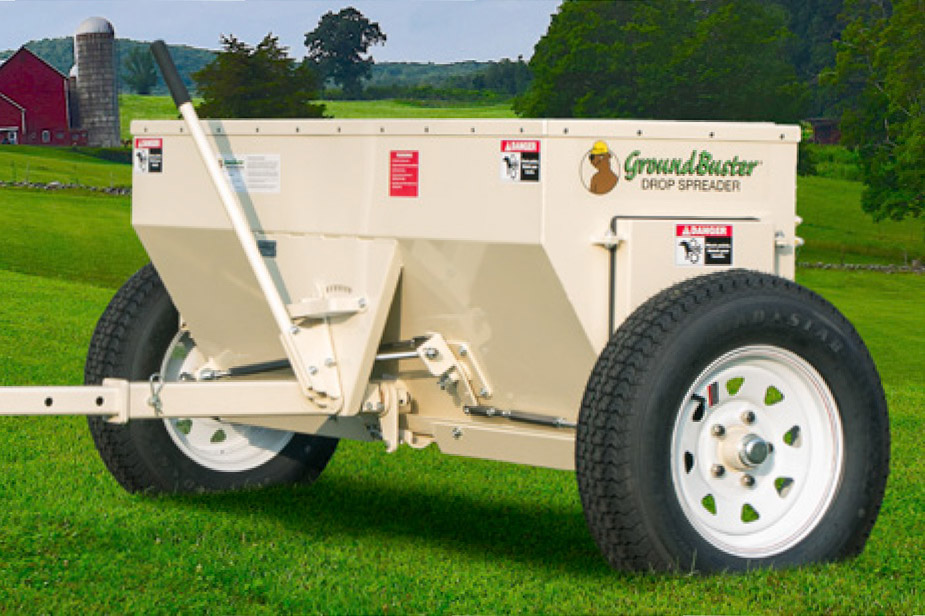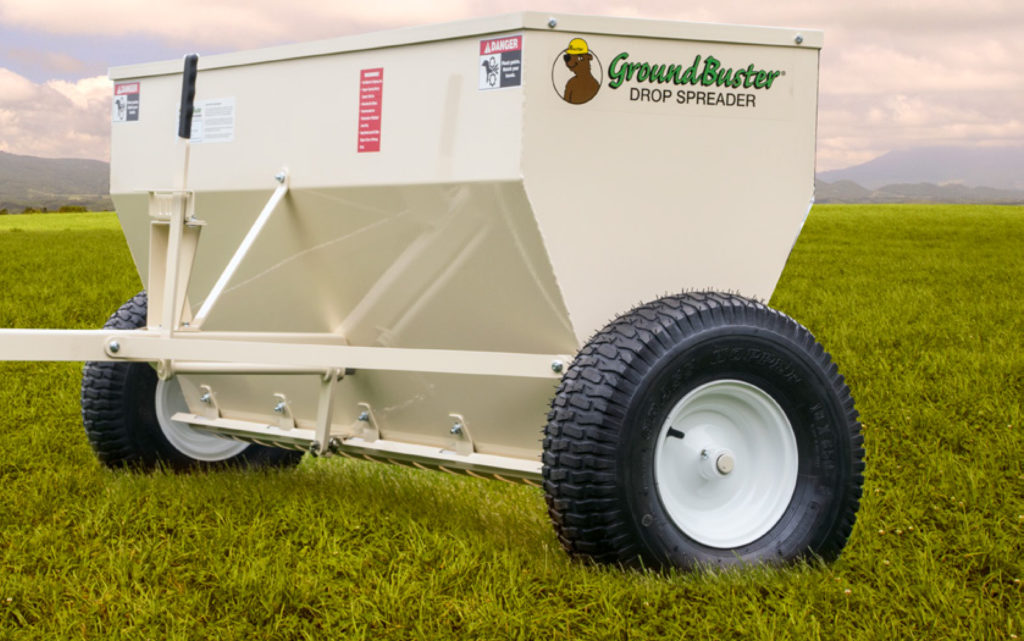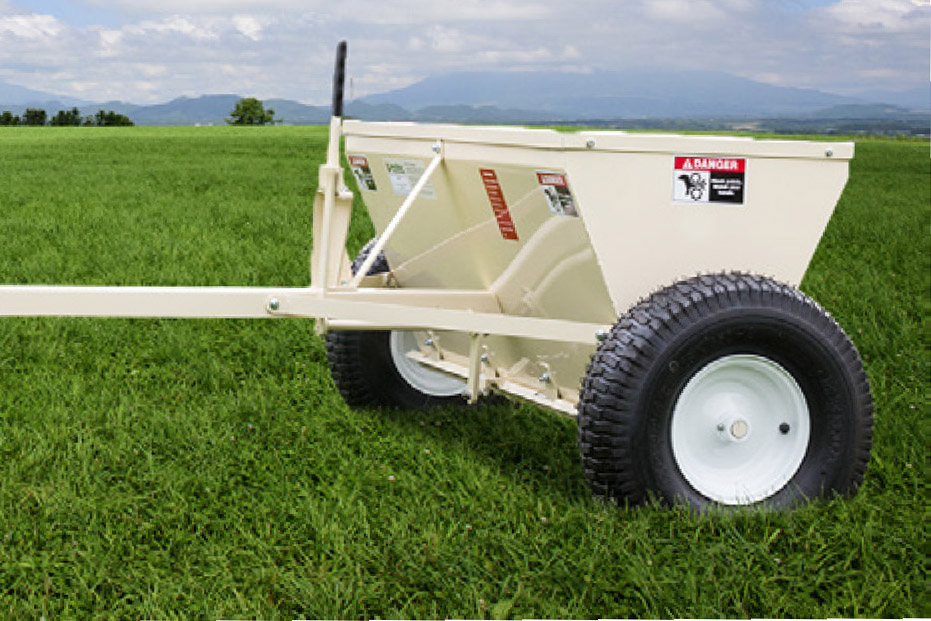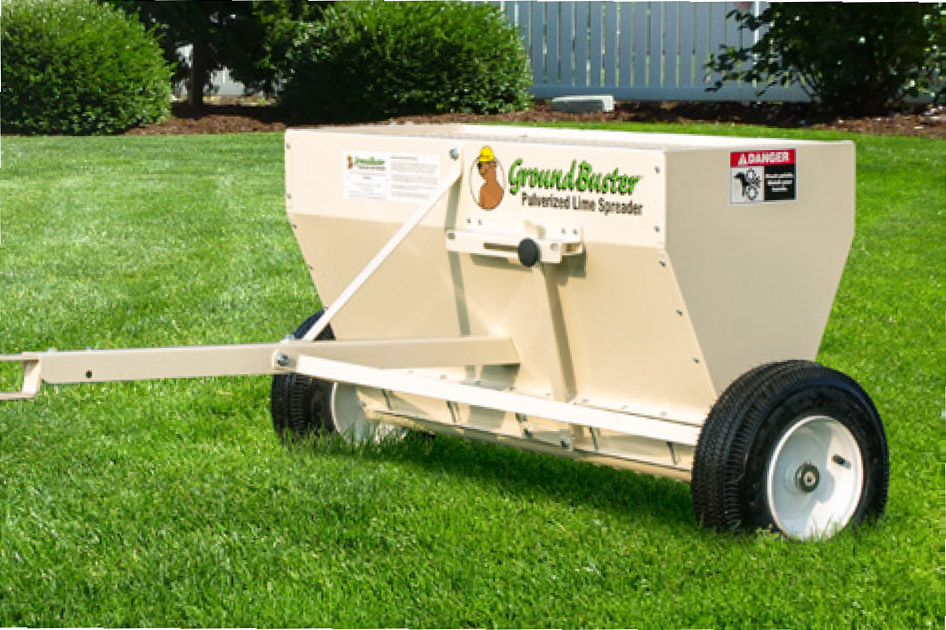 | | DS6000DX | DS5000DX | DS5000 | DS4000 | LG300 |
| --- | --- | --- | --- | --- | --- |
| Weight | 790 lbs | 450 lbs | 210 lbs | 164 lbs | 65lbs |
| Shipping Weight | 950 lbs | 510 lbs | 270 lbs | 210 lbs | 69 lbs |
| Dimensions | 97" OAW x 39.5' OAH | 78" OAW x 34" OAH | 74" OAW x 33.5" OAH | 62.25" OAW x 26.5" OAH | 44.5" OAW x 23.5" OAH |
| Auger Drive | Dual Augers, Ground Driven w/Auger Lockout | Dual Augers, Ground Driven w/Auger Lockout | Single Auger, Ground Driven | Single Auger, Ground Driven | Single Auger, Ground Driven |
| Tire Size | 9.5L-15SL | 175/80-13 | 18 x 6.50-8 | 18 x 6.50-8 | 4.10/3.50-6 |
| Tire Tracking Width | 87" | 72" | 60" | 55.5" | 40.5" |
| Pin Hitch | | | | | |
| 3 year warranty | | | | | |
Drop Spreaders are Ideal for Both Farmers and Commercial Applications
GroundBuster Drop Spreaders spread lime very evenly, and with the slanted holes on the gate, the lime overlaps slightly, producing a much more even coating than a spinner/broadcast spreader.
Our products leave little waste behind. Unlike a spinner/broadcast spreaders that waste the spread on driveways and other areas, our drop spreaders put the product exactly where you want it with a nice even coating.
Our system allows you to use pulverized (Ag Lime), saving $100 per ton or more on Lime over pelletized lime. That means you can pay for a quarter-ton spreader with the savings on your first 10 tons when using Ag Lime.
Most applications require one ton of lime per acre every year or two to maintain a 7.0 pH in the soil. Often the initial spread requires 2-3 tons of lime per acre to bring the pH to desired levels. It's easy to see how this machine quickly pays for itself, and then puts extra money in your pocket year after year! Also, with our 3-year warranty you can't go wrong.
Unmatched Versatility in a Spreader
You can use the stock lime gate or with a quick change of the bottom gate for greater accuracy for spreading fertilizer, sand, peat moss, salt, or virtually any other type of dry material. That means you can use these handy spreaders in farming, commercial, and homeowner spreading applications. For example, new construction or a major redesign presents the perfect opportunity to lime the soil before seeding the lawn or installing sod.
Likewise, winter weather presents new opportunities to salt your driveways and lanes with these handy drop spreaders. Use them on yards, gardens, fields, orchards, wineries, and many other commercial applications. Not to mention convenient – our tow-behind spreaders can even be pulled by an ATV!
GroundBuster Spreaders are Built to Last
All of our spreaders are constructed with high-grade heavy-duty steel for long lasting performance.
They are fully welded construction for durability, and are finished with abrasive blasting and powder coating for a long lasting finish.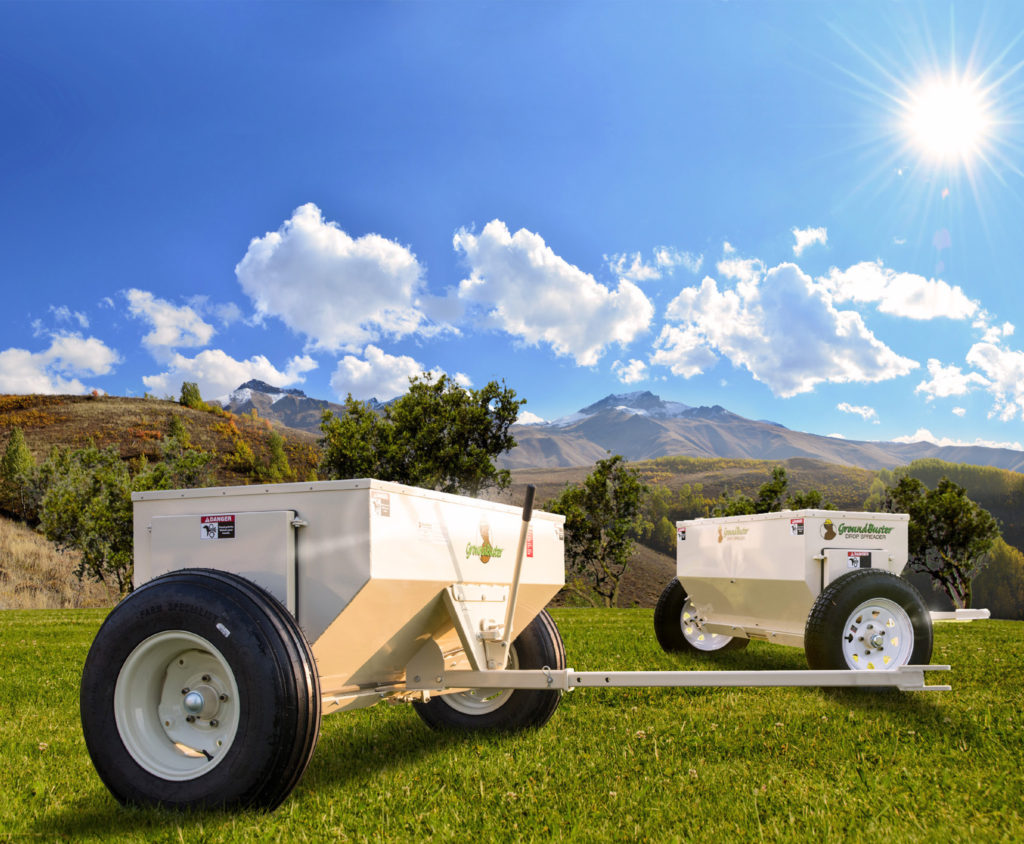 How Our Drop Spreaders Work
Vibration and gravity cause lawn care products to fall down the drop spreader into slanted holes. The drop spreader evenly distributes granular lawn care products onto the ground with a rotating agitator. Drop spreaders create an efficient drop pattern for even ground coating.
Each drop spreader has a defined edge placement and navigates planting beds, walkways, and water features with ease. Push and tow-behind models simplify labor, improve land, and prove GroundBuster builds excellence into every product.
All spreaders are easy-to-transport with a full-sized truck to increase delivery speed.
JR Metal is is dedicated to providing high quality goods and services to our clients. With a perfected process, and unwavering resolve for making outstanding products, we don't accept anything less. We hold ourselves and our products to a higher standard, and check our product lines thoroughly.
At JR Metal, most of our manufacturing and assembly is done in the same facility. We reduce back-and-forth with an organized floorplan to keep everything moving smoothly. We get it done by keeping our warehouse efficient so we can pass that efficiency on to our clients. Because most of our processes happen in-house, we can keep our prices competitive without compromising on quality.