The area surrounding State College, PA is known for its harsh winters. These conditions can be particularly damaging on traditional fencing materials. Wood and vinyl require continuous upkeep to maintain their appearance and the long-term reliability necessary for penning livestock. When a new client based in Bellefonte reached out with his vision to fabricate a metal fence that could deliver the charm and character of a wooden fence, we knew the project would require our team to think creatively. When he added that he wanted it to retain its durability for 50+ years with zero maintenance, we were ready for the challenge!
Product Engineering

CAD Drawing

Metal Scissor Band Saw

Hi-Def Plasma Cutting Machine

90-ton Press Brake

Welding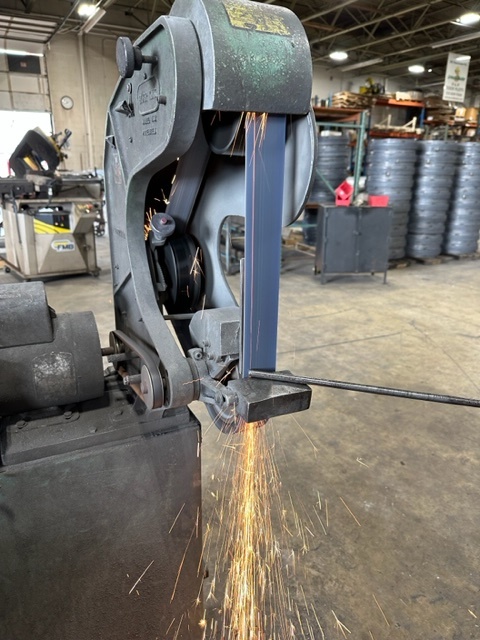 Our client had a clear vision of how this metal fence would look, but he needed a partner who could fine tune the details necessary to bring his idea to life. Together, we worked collaboratively – combining our in-house engineering, product development, and CAD services teams to develop a virtual prototype. No detail was overlooked. We tested variables to replicate where the product would be applied throughout his property, how it would be assembled, and what characteristics would be required to reduce maintenance and enhance durability.  
Our customer specified 400-feet of steel fencing with white, powder-coated railings and black posts. He wanted a sleek look and envisioned the railings fitting directly on the posts. As part of our testing phase, we trial potential issues before the product is manufactured. This process allowed us to call out the risks associated with assembling metal on metal. With an outdoor application and long-term weather exposure, we knew if the powder coating was compromised there was a potential for rust. This would require an additional component that could brace the railing where it meets the post. Our team tested several products but the standard selections were unable to maintain the aesthetic qualities of the design while also protecting the fence from long-term friction. After scouring the market but not finding a solution, our team designed, engineered, and 3-D printed a one-of-a-kind plastic grommet that could maintain the client's vision while mitigating the risks of wear.
With 16,000 pounds of steel in the shop, we first used a metal scissor band saw to process the raw materials to the specified lengths. Transforming steel tubes into railings and posts required more creative thinking. Knowing that a precise cut would be required to hold the railings and posts together, our team turned to our hi-def plasma cutting machine. Although this machine is typically used to process sheet metal, our technicians had an idea to leverage its unmatched precision. The standard bed was removed to create the clearance necessary to work on the posts. Using the CNC plasma table, we were able to repeat railing pocket cuts across each post with superior accuracy – a factor that is typically unachievable using a standard hand held grinder or plasma cutter. Next, our team was ready to approach the final piece – determining a method to craft custom post caps. This time, only experience could deliver the right solution. Our technicians opted to hammer and weld the pieces by hand to match the unique shape of the posts and ensure a tight fit. The overall process was akin to traditional blacksmithing.
From start to finish, this project was completed within two months. The metal fencing system was delivered to our client's location and assembled by his crew just before the harsh winter season.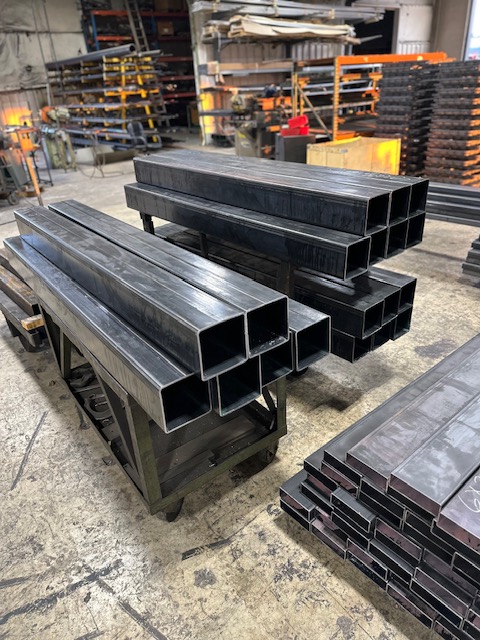 Your Vision, Our Expertise
Custom metal fabrication requires a balance of experience, stringent QA processes, and creativity. When spec-ing a new job, our clients often note our broad range of services and our state-of-the-art machinery. But once they work with us, they soon realize that our most valuable assets are the skill and ingenuity of our team.
From product design and engineering to fabrication, welding, and machining, we offer a turnkey solution to help bring your product or prototype to life. Our high standards and dedication to quality mean every job is manufactured to your exact requirements. And our strategic planning process means the product will operate as expected.
When you partner with JR Metal, your unique ideas and creative vision will never be met with doubt or skepticism. Instead, we view these challenges as an opportunity to swing for the fences and exceed expectations. Ready to plan your next big idea? Let's start a conversation about your project.